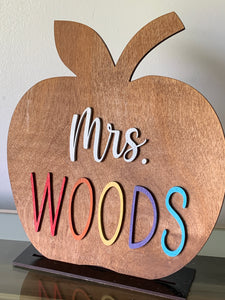 This wooden apple teacher name sign makes the perfect gift for a favorite teacher! New teachers will love this sign as they set up their classroom decor. 

The teacher's title (Miss., Ms., Mrs., Mr., etc.) will be painted white. The teacher's name will be painted in bright colors and the apple will be stained in a light color front and back. The size of the letters will vary to best fit on the apple, based on the number of characters in the teacher's name. The sign will be finished front and back with a matte clear coat. 2 sizes are available. 12 x 10.25 inch or 9 x 7.5 inch


All items are handmade, so there may be slight variations in appearance from the listing photos. All pieces of wood are different, so there will be natural variations in the grain, knots in the wood, etc. on each sign.