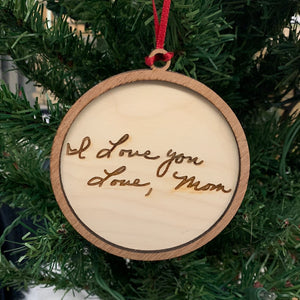 Keep your memories of your loved ones alive with a custom handwriting ornament. Each letter is cut with a laser after being captured using a photo of the handwriting that you will send me. Be sure to take a look at the ornament examples that I've made using the original handwriting.
Each beautifully framed handwriting sign makes a timeless statement in any room. Hand-painted in classic black, it's set against a fresh white backdrop and framed with a darkly stained wood. 
Size: 4 inch
After placing your order
-take a photo of your precious handwriting
-send the picture to me via email to kim@bluedaisydreamer.com
-I will reply back that I received your order/email with photo 
-expect your order to take 10-14 days to be created plus shipping time.