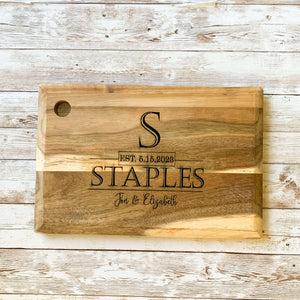 Include this one-of-a-kind piece in your kitchen decor. This personalized wood charcuterie board provides a unique and personal touch to any kitchen. It's perfect for a home warming or realtor gift!

DETAILS:
• Premium wood cheese boards.
• One side can be used as a cutting board, the other side a charming addition to any home decor.
• Conditioned with Mineral Oil to ensure long-lasting durability.

Our high-quality boards are made from natural wood 

Please be aware that every cutting board is made from different wood and is unique! Some boards may engrave slightly lighter or darker than the photo shows.