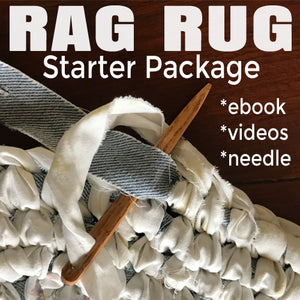 Get it all! 
1 handmade oak needle 4-4 1/2 inches long, 1/2 inch wide, and 1/4 inch thick
Available for shipment to US
and
39 page eBook with step by step instructions to help you make your own beautiful, handmade rag rugs. 
*Color photos to show each step of the process.
*Directions for calculating how big to make your center/base in order to achieve the size rug you desire.
*Written instructions for creating stitches, increasing size, decreasing size, and finishing an oval rag rug.
*Also includes step-by-step instructions on choosing fabric, ripping strips, getting started and finding time to make your rugs.
and
8 step-by-step videos that will aid you in making your own unique rag rug!  Plus a free 2-page tip sheet for help with making rag rugs!
NOTE: The tip sheet will be immediately available for download after your payment and the link to the videos and the password to access them will be emailed to you.  The needle will be mailed and you will receive another email when it is sent
Great service!
Received the needle promptly! No problems with video's…On my way to making my first rag rug !