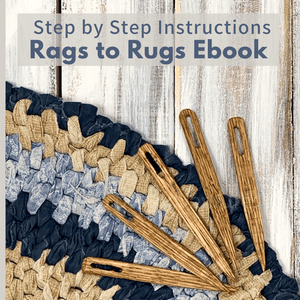 39 page ebook with step by step instructions to help you make your own beautiful, handmade rag rugs. 
*Color photos to show each step of the process.

*Directions for calculating how big to make your center/base in order to achieve the size rug you desire.
*Written instructions for creating stitches, increasing size, decreasing size, and finishing an oval rag rug.
*Also includes step-by-step instructions on choosing fabric, ripping strips, getting started and finding time to make your rugs.
Easy to follow
Thank you for sharing. Have enjoyed making my first mat.
Pattern looks good , can't wait to get started