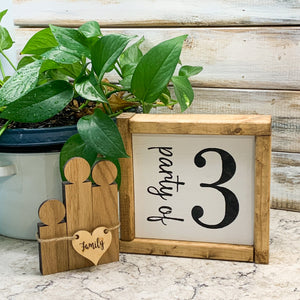 What size is your family? Show it off with a Wooden Block Family AND a Party of shelf sitter! They are perfect arranged together or individually!
**Your "Party of" sign will be the same # as the number in your "Wooden Block Family"
The tallest family member is approx 5 1/4 inches and the smallest is 2 1/2 inches.
Party of shelf sitters are 7x7 inches.
Need a larger family? Send an email to bluedaisydreamerdesigns@gmail.com

Options for wording for the heart: Family or your family name (additional charge)